Since our economy is at an all time low and not that many people have excess dollars laying around to breed we have decided to offer breedings to SVS Fornaio free of charge to all of you!!! The only thing you will have to pay is the collection/shipping fee.
Here is how it works. You pay for collection/shipping fee only at the rate of $450. This includes collection, packaging, disposable container (so no container deposit fee or container return postage) and fedex from our farm to yours. If your mare takes on the first shipment, more power to you. Congratulations, ..... you will have a foal coming for $450. If she doesn't take on the first shipment and you need another shipment, there is an additional $450 charge per shipment!! There is no contract that your mare has to get in foal. If your mare is not in foal and you decide to quit after one, two or three shipments, its all up to the mare owner. For once, the mare owner is in charge. Oh, btw, we throw in the breeding certificate. Your foal will be eligible for the Scottsdale Signature Stallion program, Sweepstakes and of course US and Canadian Futurities. If your mare is checked in foal but fails to produce a life foal we will honor the same deal for 2010.
Most stallions of Fornaio's quality stand at $2500
PLUS
the collection/shipping fee so this is a chance for all of you to get a quality foal at an extremely reduced fee.
For those of you that don't know who SVS Fornaio is, ....well, he personally was Cal Bred reserve Champion colt as a three year old, US Futurity Top Ten in 2005 (3rd on the cards) and multiple Scottsdale Top Ten in Open and AOTH. More important, he sired a Top Ten Scottsdale Signature Stallion Auction Colt in 2008 from his first foal crop and repeated it in 2009. He is by Khadraj NA out of a Kouvay Bey daughter out of a pure Polish *Deficyt daughter.
This offer is open to anyone for 2009!!
So here he is
[img]
http://theammyarmy.forumotion.com/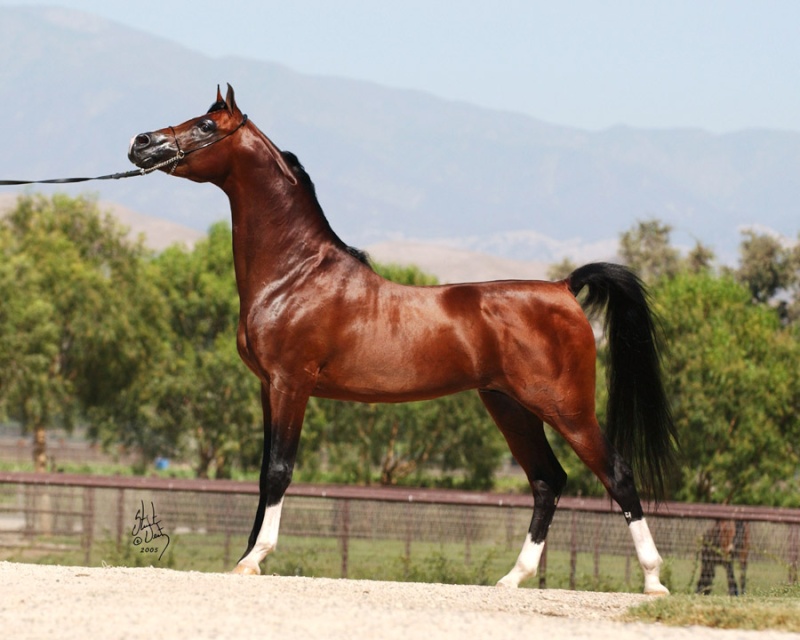 [/img]
So if you are interested in this offer call us at 520-579-7297 or send an email to Monique at svsfornaio@aol.com